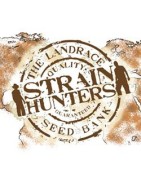 Ministry of Cannabis es un banco de gran acogida por sus fans ya que cada vez son más los que se atreven a probar sus nuevas e imponentes variedades. Ofrecen un amplio catálogo muy variado pasando por variedades automáticas hasta las mejores feminizadas. Todas las cepas son de alta calidad y ofrecen unos resultados que muchos han podido comprobar ya por su propia mano. Ministry of Cannabis solo selecciona las mejores genéticas para que puedas disfrutar del cannabis moderno y mejorado, para que su cultivo sea más sencillo en cualquier ámbito. A continuación os enseñaremos algunas de las genéticas con el fin de informaros mejor sobre nuestra experiencia con dichas cepas:
Big Bud XXL se trata de una planta feminizada la cual produce casi el doble que su versión original. Mantiene ese especial toque de la Big Bud, sus cogollos prietos y de aromas muy dulces y empalagosos. Al seleccionar el ejemplar más estirado, debemos tener cuidado ya que en interior se nos puede descontrolar, pues crece muy ancha y alta. No debemos poner más de 6 ejemplares por m2, pues si ponemos más se estorbarán tapándose la luz unos a otros reduciendo así, la cosecha. Big Bud XXL precisa de unos abonados regulares para que los cogollos adquieran buenas dimensiones, y no te preocupes pues come bien, y le cuesta marcar excesos, con dosis normales.
Ultra White Amnesia también nos resultó una planta peculiar y especial. Se trata de una mezcla entre White Widow y una Amnesia Haze con lo que podemos estar seguros de la calidad final que conseguiremos. Es una planta con gran estructura inter-nodal, con lo que estamos seguros que te dejará asombrado con lo rápido que finaliza la floración para ser una planta con un % sativo tan elevado (9 semanas en interior). Puedes esperar cogollos inmensos si la cultivas en exterior siempre con ese sabor incensado y terroso muy conseguido. Fácil de cultivar y de grandes resultados con mínimos cuidados.
Northern Lights Moc es una planta que también produce grandes cantidades de resina, de grandes cogollos sobretodo concentrados en el tallo central, formando un cogollo que será prácticamente todo lo que produzca esta planta. Muy útil para su uso comercial y terapéutico además de ser una de las mejores opciones si queremos hacer nuestras propias extracciones, pues su resina cuenta con un sabor y aroma muy atractivo, del dulce pasaremos al ácido dejando un rastro a avellanas muy diferente y especial. No es difícil su cultivo aunque deberemos controlar su floración pues se vuelve más exigente con los niveles de nutriente. Si tenemos un cultivo estable, nos ofrecerá hasta 500gr por m2, con unas 9 plantas, en tan sólo 65 días de floración.
Ministry of Cannabis te regalarán los mejores ejemplares jamás vistos, plantas homogéneas y muy sanas, con fuerza suficiente para darte resultados que superan tu media de producción. Tendremos muchas variedades donde elegir, con lo que te recomendamos que pases por nuestra página web y eches un vistazo a todas las variedades existentes en el catálogo.